The Night of Beauty project began with a one-page website for a single event. The client wanted an Eventbrite embedded checkout where consumers would not leave the webpage. The one page site was built on WordPress which includes the Eventbrite API. It's important to note that that using the API requires a secure domain with an SSL certificate. We created a custom Beaver Builder Eventbrite wordpress theme using provided brand collateral.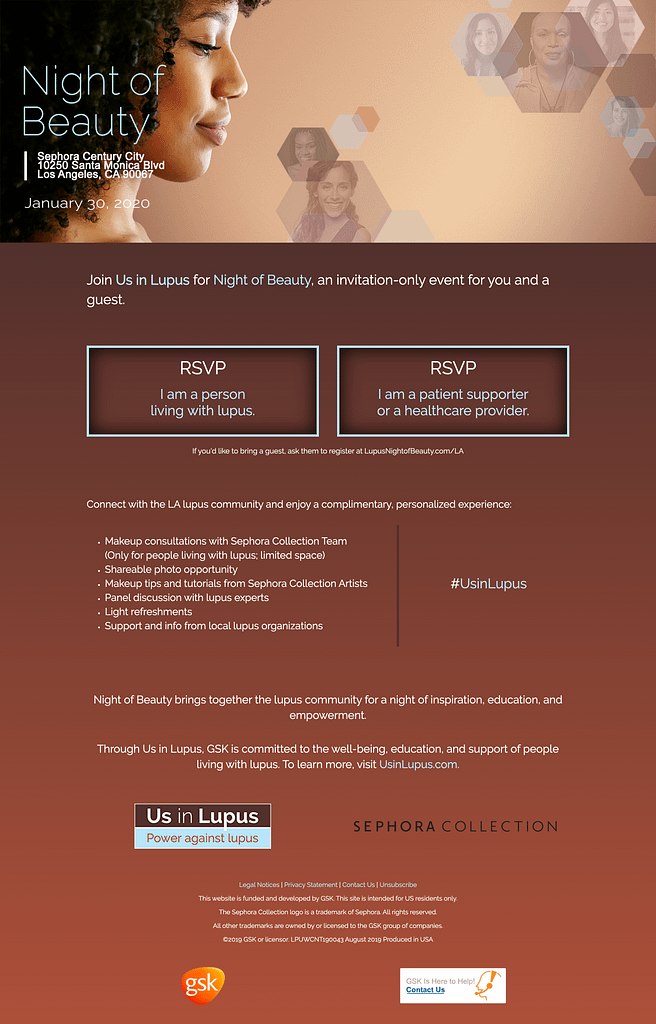 sd
Each ticket used tracking pixels to track the consumer's journey through the sales funnel. The pixel data would late be used for remarketing/retargeting campaigns – strategically displaying ads to consumers and audiences who previously interacted with your website.
Along with the increased level of web support, we handled the production of all design assets for each event including web page banners, ads and flyers.
The project was a build, then approve, approach where design artifacts can be submitted and edited more than a dozen times, one word or edit at a time. The entire project, down to every word and detail, is approved through a detailed approval process managed through Veeva Systems Vault and can take weeks. Multiple security measures, training and certification was required to gain access.
If you need an Eventbrite embedded checkout for WordPress, hire Spokencode.
About Night of Beauty
Night of Beauty is a Lupus-focused outreach program bringing events to women of color with lupus, their families and their caregivers. Night of Beauty events deliver education and self-care tips in a fun and inspiring environment. Local lupus warriors can speak with health experts, learn about self-care through custom makeup consultations, and connect with local resources, such as chapters of patient advocacy organizations, and fellow women living with lupus.